We would love to introduce to you
Rachel
:)
Rachel is the proud owner of Poppy and Fern, a cute etsy shop that has numerous
handmade jewelery
with an extremely unique style!
Tell us a little bit about yourself.
My name is Rachel and I live in Austin, Texas with my husband, rescue dog, Tootie and cuddly cross-eyed cat, Meeka. I create hand embroidered jewelry and wall hangings for Poppy and Fern. I love cold weather and family traditions, hikes with my husband and our dog, reading in my PJs, watching movies, playing board games with friends, cooking, drinking hot tea and thrifting for treasures. I love an array of different music ranging from Stevie Wonder to Punch Brothers to M83. My husband is a musician, so he has shown me some amazing music over the years. When we were first dating, we would just drive around and listen to music.
Many of your creations portray animals. Tell us more about your pets!
I am an animal lover. Growing up, my parents indulged that love. We had a snake, rabbit, gerbils, a dog and a cat. If it was my choice we would have had more. :) My husband and I adopted our rescue dog Tootie shortly after we got married and our friends gave us our cat Meeka a year later. The two of them did not want to have anything to do with each other in the beginning, but they have become quite fond of each other now. They love to nap in the sunshine together during the day.
I just finished designing wooden engraved frames that I will use to make brooches, it's a very exciting new venture. I also embroidered spring inspired floral pieces that will be making their way into the shop in the next few weeks. I am in Renegade Craft Fair May 19th and 20th here in Austin, so I will be finishing up my booth display and inventory for the show. Two weeks and counting, eep!
How were you inspired to start your business?
I got a job teaching Pre-kindergarten children after getting out of art school. I would teach by day and create necklaces by night with all of these wonderful brass pieces I would find in shops around town. I made what I wanted to wear, and my collection of necklaces grew and grew. I decided to sell them online and then a shop downtown contacted me to sell in their shop. I started thinking of it not just as a fun hobby, but a way to share my passion for creating beautiful things with people. I love that people are wearing my artwork around their necks, it's such a satisfying feeling. I put in my notice two months ago and am so excited to be able to make these beautifully whimsical embroidered pieces for people full time. It's been altogether terrifying and exhilarating to start this business. :)

What are your favorite books?
This is a tough one. I love to read and can get lost for hours in the world of a good book. I love the romantic sensibilities of Jane Austen, the Harry Potter series, and The Graveyard Book.
At what age did your realise your artistic side?
I don't know an exact year, but I loved crafting from a young age. Both my grandmothers were quite creative, so they taught me how to cross stitch, sew, paint, and knit. I cherish that time with them, especially my grandmother, ReRe, who has passed away. She was always so encouraging of my new creative ventures. I got to show her some of my embroidered pieces before she died and I am so thankful that I got to do so.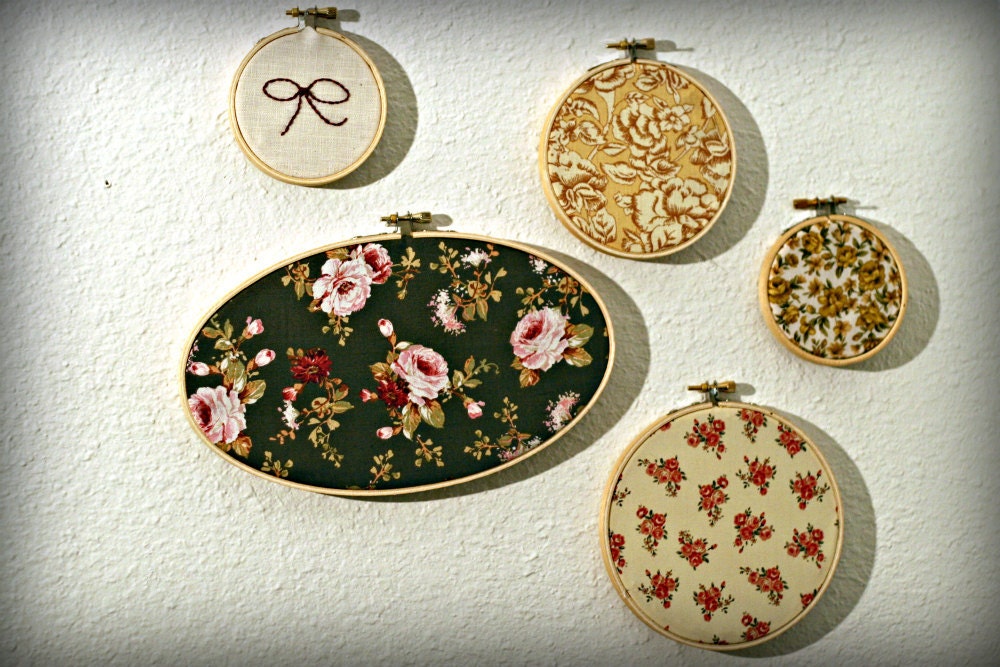 What's your favourite food?
I love to cook yummy vegetarian cuisine, but my favorite food is pizza. Every Thursday night, we bake up some pizza and sit on the couch to watch our favorite shows.
What are you favourite things in the world?
I am incredibly sentimental, so I love anything that has memories attached to it. My Mom had this beautiful tapestry bag that she used for her and my Dad's wedding. I loved it so much I used it for my going away outfit at our wedding. My grandmother let me have her amazing brass pineapple lamp from my grandparent's house and I display it proudly. It reminds me of being at their home as a kid. I also have a collection of old love letters from Joshua from when we were first dating nine years ago. It's fun to go back and read them.
Everyone just go and check out Rachel's wonderful
shop
!
We wish her the best and we are looking forward to see even more cute designs!